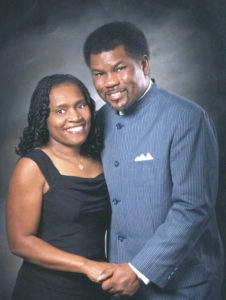 Changing the World One Child at a Time
Welcome to Zion Christian Academy International. I would like to extend to you a warm welcome and thanks for deciding to be a part of Zion. It is the desire of Zion's staff, faculty, and I to see your child develop to his or her full potential. We exist to help you "train up" your child in the way he (and she) should go (Proverb 22:6​) and to grow in wisdom, stature, and favor with God and man as Jesus did (Luke 2:52). I believe that a child's spiritual well being will have a major impact on his or her life.
Zion strives to provide a school with a safe, calm, and caring atmosphere, so that all students can excel academically and grow spiritually. Your full participation with your child's academics and in the activities at Zion is what it will take to help make your child's time at Zion enjoyable and rewarding. I am looking forward to working with you and your child.
James Whitaker
Founder/Superintendent
Zion Christian Academy International was established as a Christian school to reach boys and girls with the gospel and to provide a place for them to thrive academically. Our mission is to provide biblical guidance, an excellent education, and empower students in a multicultural environment to grow up to become productive and influential citizens in their society and beyond.
The philosophy of Zion Christian Academy International is to provide a quality education in an atmosphere that adheres to the highest Christian values. We use the Abeka curriculum, which is designed to meet the highest standards and requirements of equivalent levels of education in the United States of America. Zion recognizes its responsibility to provide an opportunity for each student to develop his or her God-given talents to the fullest extent possible. The school strives to instill in students a sense of obligation (1) to God, (2) to fellow students, (3) to society, to have respect for authority and respect for themselves. Furthermore, as an overseas school, we recognize our obligation to help students understand the relationship between their own society and other societies, such as our host country of Japan and Pacific Rim Nations. 
In the winter of 1989, God gave James and Gloria Whitaker the desire to follow their calling by returning to Okinawa to continue their work as missionaries/teachers with a vision to disciple and train both the young and more mature in the things of God. Although a theological education site was their primary focus, a Christian school (for children) was a natural part of that vision.
The vision for a Christian school came from their desire to see their children (Jamie and Joshua) receive a quality education that was Christ-centered and excelled in academic excellence.
Zion started out as Kadena Christian Academy. In 1995, the academy's name was changed to Zion Christian Academy. Zion started out as an elementary school, but as the students were promoted, we could not overlook the demand for a middle and high school.
Founder, Administrator, and Superintendent
B.A. Asian Culture, University of Maryland (1987)
M.A. Bible and Theology, Columbia Bible Seminary (1990)
P.C. Ed., Institute for Clinical Pastoral Care (1993)
M.A.P.C., Liberty University (2014)
Founder, Administrator, and Principal
B.A. Education and Psychology, University of Maryland (2001)
M. Ed. Elementary Education, University of Phoenix (2005)
M. Ed. Certificate, Liberty University (2017)
FREQUENTLY ASKED QUESTIONS
For more information about Zion Christian Academy International, please contact the office.